Recruitment information
Staff interview
Daisuke Enomoto,
Energy Technology Department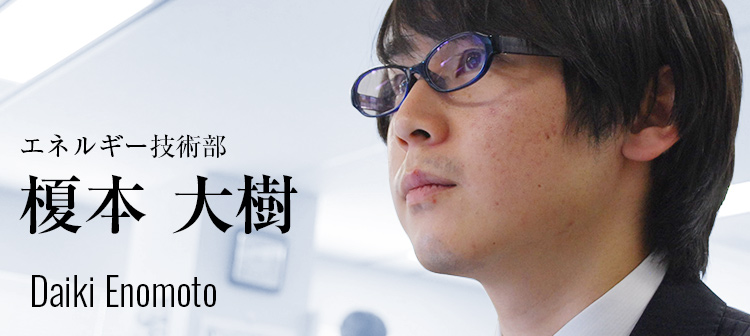 Please tell us about your current years of service and the content of your work.
In the three years of joining the company, the Energy Technology Department has received a request from the research facility, and from design to construction instruction from on-site management to configuration of experimental equipment, installation, and process control. I often go on business trips, but I can enjoy my work because I can eat various delicious foods.
What sort of work do you find interesting and challenging?
I can work with different customers every time, so I feel fresh every day. We are designing equipment using experimental equipment and chemical reactions, but since we are conducting research in the pre-stage of putting it in the laboratory, we can be engaged in something that we can expect to see major developments in the future I feel interesting, and I can create something I have never done before and feel a sense of accomplishment when the research results are successful.
What does it mean to be painful at work?
The work is not all good. For example, when there is a delay or a problem with the progress on site with customers at the time of process control in the on-site work, there may be times when it is mentally painful, but as a result, I think that it is necessary to aim at a better one, I'm doing my best.
What are you doing on your days off?
It is movie watching which is a hobby common to couples! I go to the cinema once a month. I usually enjoy movies at home. In a recent movie, "First man" was interesting!
What do you expect from new employees?
What I think is important in my three years of experience is that if you are able to go to work with a positive feeling regardless of those who are curious or regulatory concepts. If you have a soft idea that can absorb various information without hesitate to adopt new technology, why not work together?
Recruitment information
Recruiting new graduates and experienced people
We are recruiting new graduates and experienced people.

<Number of recruits> Some
<field> achine, structure design / production, plant design / production and engineering, new energy related equipment development, structural analysis engineer
<place of work> Yokohama (head office)
<Payment> 30 years old: 5.2 million yen annual salary

For more information, contact us please.